One of the best loved Nike silhouettes of all time, the iconic Nike Air Force 1 is a silhoette that needs no introduction.
But what are the top ten most expensive colourways ever created?
Walking down the high street, you don't have to go far to spot the classic triple white or triple black Air Force 1. They are some of the most worn shoes in any city worldwide. But beyond the staple styles that we know and love. What are the most expensive Air Force 1 colourways of all time?
Here is the list that you've been waiting your whole life for!
10. Nike Air Force 1 Low Year of the Dog (2018)
Average price: $1951
Style code: AF1L-YOTD18
Where to buy: StockX
About:
The Nike Air Force 1 Low "Year of the dog" was released in 2018 to celebrate the Chinese New Year.
The name comes from the year of the design and the iterations on the sneakers. The shoes are mainly finished in white, whilst the Chinese characters and other materials resemble a Tibetan mastiff dog.
Nike was also inspired by the "Tangta" design which is intended to convey good fortune for the wearer. This design is featured in digital laser work all-over the shoes. Another cool feature is the graphic pattern designs on the mudguard which were obtained from the interior artwork of temples. This form of storytelling and travel creates a unique experience.
Nike has landed a great effort with these unique and stylish shoes born from Chinese culture.
9. Nike Air Force 1 Low Mark Smith Cashmere Laser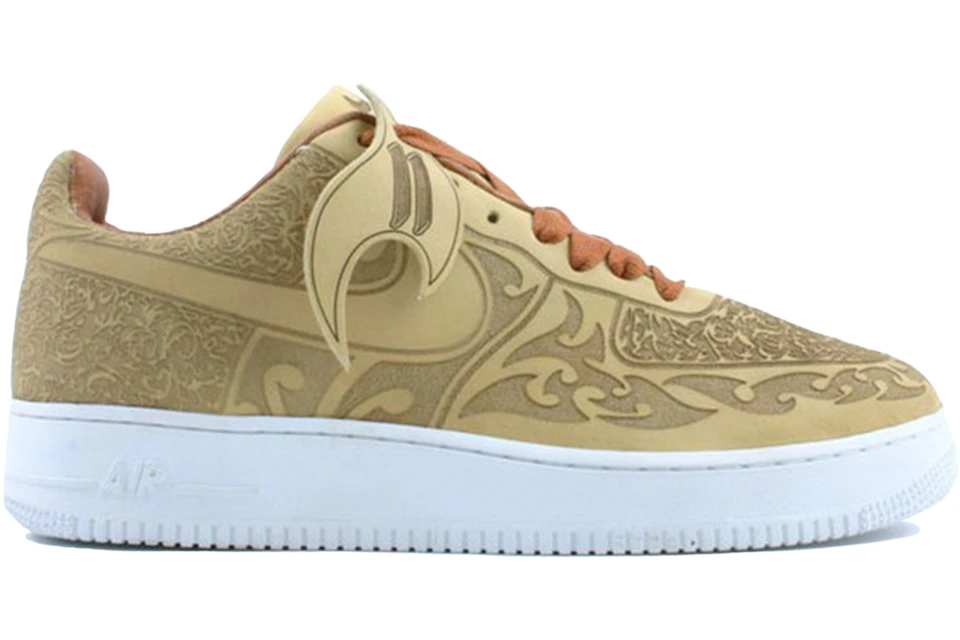 Average price: $2385
Style code: AF1-LZRCASHMERE
Where to buy: StockX
About:
The Nike Air Force 1 Low designed by Mark Smith is a unique take on the Air Force 1. The stunning cashmere above the white outsole makes it a straight up head-turner.
The laser-cut etching forms an explosive design throughout the upper. The swoosh on the tongue enhances the finish and helps build a soulful masterpiece that's truly a thing of beauty. Alongside the intricate design and obsessive detail, this shoe doesn't disappoint when it comes to wearability. The construction is unmatched in both quality and comfort. Another great consideration is that this pair is ideal for both men and women. The neutral, earthy color is made to take the wearer on his or her journey.
As always with AF1, the sock liner increases support and provides a nice plush feel inside the shoe. The rubber outsole also brings great durability.
8. Nike Air Force 1 Low PlayStation
Average price: $3250
Style code: AF1-PLAYST
Where to buy: StockX
About:
In 2006 Nike dropped one of its rarest special edition collaborations ever. This limited-edition Nike Air Force 1 was designed to celebrate Sony's release of the PlayStation 3.
The iconic collab resulted in the beautifully designed Nike Air Force 1 Low PlayStation. The emblematic shoes feature various different vibrant colours in keeping with the branding of Sony's vivid flagship console. The patent black piano leather on the upper instantly draws your attention to the sneakers. Straight away you will notice the eye-catching meticulous details such as the Sony PlayStation logo on the heel of the sneakers. The purple laces pop out which makes them a unique offering unlike any other Nike Air Force 1. The price of this treasure these days have skyrocketed into tens of thousands of pounds!
As always the Air Force 1 design provides a shoe that is super breathable and comfortable, with a thick rubber sole and staple Air technology. These sneakers are fit for both fashion and function.
7. Nike Air Force 1 Low Supreme I/O Michael Lau
Average price: $3566
Style code: AF1LSIO-ML
Where to buy: StockX
About:
The Nike Air Force 1 Low "Supreme" was designed by Michael Lau a long time Nike collaborater from Hong Kong. He is one of six prominent tastemakers from the Asia region in the Air Force 1 1 world collaboration project. The shoes come in an all white on white premium quilted upper with numerous layered pieces of Michael's sketches and words to represent the true meaning of the Nike Air Force 1 . The upper has five tally marks on the lateral heel engraved in gold foil. This is intended to symbolise 25 years of the silhouette, and to celebrate its triumph in the sneaker game. The legendary sneakers were released in 2008. The shoes brings a unique take on the classic triple white style. In addition, these special shoes come with a Michael Lau "Crazy Michael" vinyl toy and special box.
6. Nike Air Force 1 Low SBTG x Staple Pigeon Fury
Average sale price: $4155
Style code: Ticker: AF1L-SBT00PF
Where to buy: StockX
About:
New York design god Jeff Staple teamed up with well known artist SBTG to design this unique Nike Air Force 1 Low. The limited-edition is made in only 30 pairs worldwide. The special handcrafted Nike Air Force 1 is named SBTG x Staple Pigeon Fury.
The shoes feature a great blend of signature pink and grey tints all melded well together in suede overlays. They feature SBTG's hallmark camouflage as the design pays tribute to Staple's home base of NYC. These shoes are embroidered in an abstract camo pattern on their mid foot Swoosh. The construction is cleverly done and the color blocking is biilliantly mastered. The muted grayed mesh well with the amplified pops of pink. Each shoe 's lateral heel has a special stamped detail. For instance, a pigeon logo on the left foot and Staple's name in SBTG signature in Arabic font on the right. They are available in both Men's and Women's sizing. The midsole is finished in a cream colour with the pink detailing bringing it all to life. In our opinion the colour palette is bang on point here. The pink detailing, cream midsole, and custom packing all bring this wonderful shoe together.
5. Nike Air Force 1 '07 Virgil x MoMA (No Socks)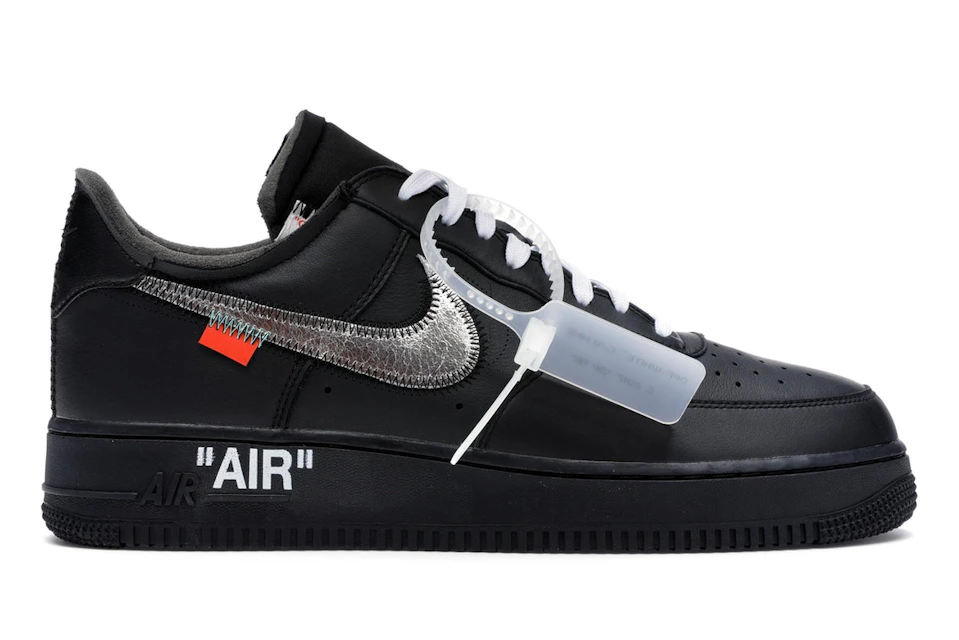 Average sale price: $4304
Style code: NK-AF1-07VMNS
Where to buy: StockX
About:
One of the more recent drops in the top 10. This Nike x Off White collaboration with Virgil Abloh needs little introduction. A shake up of the triple black leather style with a silver metallic swoosh, white laces, and classic Off White ''Air'' branding on the midsole. The limited-edition shoe is finished with that classic Off-White tag.
The hype for these treasure sneakers was unreal when released.
4. Nike Air Force 1 Low CLOT Spider Web
Average sale price: $4500
Style code: AF1L-CLTSPDRWB
Where to buy: StockX
About:
When Nike gets together with CLOT it's always a huge deal. Released exclusively at Juice LA back in 2018, this art-inspired drop was highly anticipated, and as such they demand a very big price tag.
Featuring a silk upper with the custom spider web pattern all over. This denim detailing and black spider-web design is thanks to the use of a unique "hydro-dipping" technique. These sneakers are a masterpiece to add to your collection.
3. Nike Air Force 1 High Vlone Paris Fashion Week
Average sale price: $4727
Style code: NK-AF1HVPFW
Where to buy: StockX
About:
As Nike was approaching its 35th anniversary they decided to celebrate with one of the biggest collaborations to date. Valone, the owner of Vlone designed and presented the Nike Air Force 1 High x Vlone.
The color-blocking of the bright red and yellow on the titular black shade of the shoe is brilliant. The shoe is eye-catching from its vibrant tones to its impressive deign.
2. Nike Air Force 1 Low x Eminem 'Shady Records' Black
Average sale price: $7000
Style code: AF1ESR-BLKGR
Where to buy: StockX
About:
Nike gifted this Air Force 1 Low to Eminem and a number of his friends and family upon release of his latest album 'Encore' in 2004. The shoes were specially designed with 'Shady Records' embroidery on the upper, along with an 'E' which stands for Eminem.
Due to their scarcity and career defining arrival along Eminem's musical timeline. These have become one of the most sought after Air Force 1 creps of all time. Any Marshall Mathers fan will surely appreciate wearing these iconic shoes.
1. Nike Air Force 1 Low Kith
Average sale price: $5433
Style Code: AF1L-KITH
Where to buy: Stockx
About:
Whilst the top position for most expensive Air Force 1 ever fluctuates regularly. The Nike Air Force 1 Low "Kith" always remains high on the list.
In the forty year history of the partnership between Ronnie Flag's KITH and Nike many styles have landed, but none have been as desirable as this one.
Building on the classic triple white colourway this KITH collab features gold accents on the tips of the laves. There is also a green swoosh embroidered near the toebox and the swoosh features a repeated pattern of the KITH box logo.
Another Air Force 1 done right!