Thinking of investing in a pair of Karhu trainers, but not sure if they run small or you need to go up a size? If yes, you have come to the right place. This article will serve as an all you need to know guide to Karhu trainers, with a specific focus on how Karhu trainers sizing works.
When it comes to sneakers, size is important. If a trainer fits well and is true to size, this will ensure you enjoy the most comfortable experience possible. Therefore, it is crucial to ensure a solid understanding of how certain brands operate their sizing policies.
Overall, Karhu styles tend to run slightly on the small side. The Karhu Fusion 2.0 for example run half a size smaller. In comparison to Nike, they run slightly more snug. So it would be wise to size up by half a size to what you would normally buy from Nike. They are very similar in size to the New Balance silhouettes. Bear in mind (pun intended) that the Asics trainers are ever so slightly larger than the Karhu trainers. Therefore, the general consensus is to size up by half a size when purchasing Karhu trainers.
The origins of Karhu
Karhu is a Finnish sports brand that was founded in 1916 under the original name of 'Ab Sportartiklar Oy. The small workshop was based in downtown Helsinki and became a hub of crafting locally sourced birch into skis, javelins, and discuses.
After some time producing these sports items, the workshop eventually began developing their first style of running shoes. These running shoes were worn by Ville Ritola and Hannes Kolehmainen. Both of them are known as the first "Flying Finn"(this name is given to a group of Finnish athletes known for their speed). In 1920, the brand changed its name to Karhu, the Finnish word for "bear" and quickly started gaining traction by appearing on the feet of many renowned athletes, most notably Paavo Nurmi.
In 1950, Karhu took the Olympics by a storm. With 15 athletes winning gold in Kahru shoes, the iconic three-stripe emblem that adorns their shoes became a globally recognised symbol of success and sportsmanship. In 1960, the M logo was registered by the company as an ode to the Finnish word "Mestari", which translates to "champion".
Many different variations of the M logo have been designed over the years, and it is still the emblem of the brand today. 1970 was a landmark year for innovation, as the brand introduced its first patented Air Cushion midsole in order to further their reputation or efficiency and speed.
Collaborating with the University of Jyväskylä in 1986, Karhu saw the birth of the Fulcrum technology. This is an advanced propulsion system designed to propel wearers by offering balanced cushion, increased support, and a greater level of energy at the toe box.
The most famous Karhu silhouettes are the Aria 95, Fusion 2.0, Legacy, and Albatross. All which will be explained in greater detail below.
Karhu Aria 95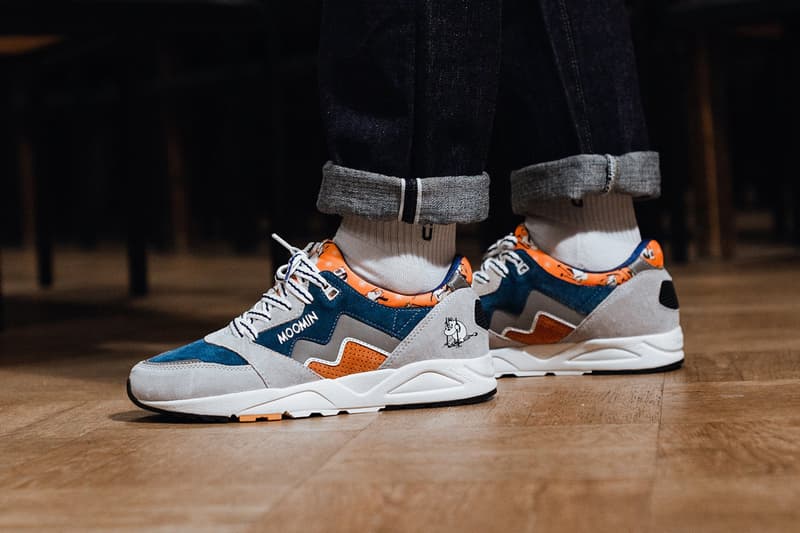 A key part of the Karhu Originals collection, the Aria silhouette acts as the lifestyle counterpart to the brand's running line. These silhouettes aim to be slightly more stylish and suitable to wear as a fashion statement, rather than solely for athletic purposes. In 2015, Karhu teamed up with Boston-based sneaker emporium Concepts to reimagine the classic. In turn, the Aria 95 was then born.
The Aria 95 is made from a blended upper of mesh to the toe and to the sides. Designed with suede to the top, heel, and foxing tape. Also, featuring reflective details and trim. It has a padded synthetic lining and a collar for comfort.
The Aria 95 boasts an EVA midsole in order to provide great shock-absorption, a durable construction, and a grip-friendly Fulcrum rubber tread. Featuring an embroidered logo on the side of the shoe, an embossed logo at the heel, and a rubber patch on the tongue. The Aria 95 is kitted out with decorative aspects to truly bring this trainer to life and give it that lifestyle edge it set out to offer in the first place.
Where to buy:
The best places to buy Karhu Aria 950 are as follows:
Karhu Fusion 2.0
A modern take on an absolute classic, Karhu decided to elevate their Fusion silhouette to give it a more contemporary edge for it to appeal to the masses. Originally designed in 1996, the Fusion silhouette was popular since its inception, but Karhu didn't want to stop there.
The Karhu Fusion 2.0 includes a wealth of brand-new features to upgrade the old silhouette. Such features include a pigskin suede mixed with nubuck to give the uppers a more durable feel. Karhu decided to keep the original label on the tongue, M-logo, and round hiking laces in order to protect the well-known aesthetic of the original trainer. Furthermore, Karhu kept their Fulcrum technology in the mid-sole in order to continue offering the famous stabilizing structure and supportive effect.
The Fusion 2.0 was released in two different colourways to offer customers a better choice. The two palettes are inspired by Finland's Pallas-Yllästunturi National Park, which is located in the northern part of the country. Featuring hues of greys and neutrals. The colours really do capture the natural landscape that make the two trainers worthy of being called the 'Mount Pallas' pack.
Where to buy:
The best places to buy Karhu Fusion 2.0 are as follows:
Karhu Legacy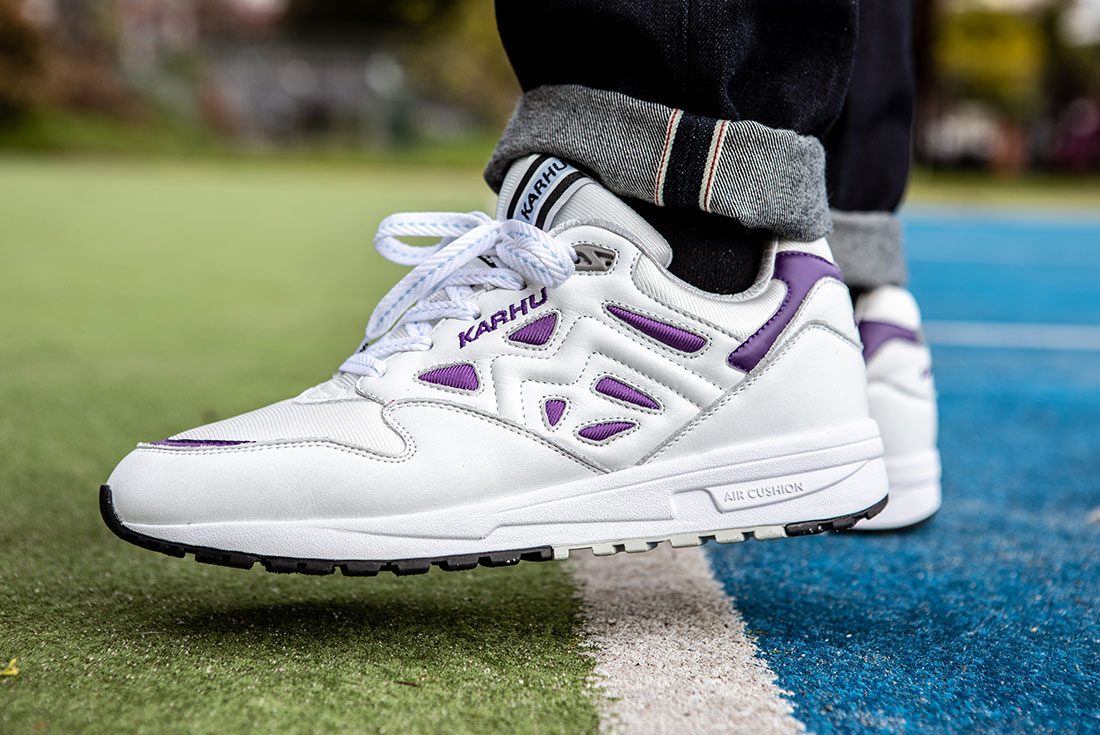 First making its debut in 1996, the Legacy silhouette boasted an Air Cushion landing zone, sandwich construction heel cap, and an EVA midsole to form a very well-cushioned, padded running trainer. The shoe was inherently stable by design, proving a very comfortable fit and thus a popular option amongst consumers. Nowadays, the silhouette has been upgraded to the Legacy 96 which is an ode to the heritage of the brand.
The Legacy 96 "OG" is carefully crafted from luxurious, high-quality Italian leather in the original purple and white colourway. The other two Legacy 96 models that have been released are crafted from a synthetic suede. They are very suitable for Karhu fans who don't tend to opt for leather. Alluding to the bold vivaciousness of the 90s, one of the colourways features vibrant hues. The classic silhouette features a navy and an orange colourway. There's a modern minimal one that features a black and a light blue colourway. The result is a more demure option that assumes a 'less is more' aesthetic.
Keeping to the design of the original construction, the panel design also features softly threaded, shiny mesh for added breathability. The Air Cushion heel has also been kept very much as a key feature of the shoe. Crafted with a little icon printed on the shoe to draw awareness to its presence.
Where to buy:
The best places to buy Karhu Legacy 96 are as follows:
Karhu Albatross
In 1982, Karhu released their Albatross silhouette. They very quickly gained traction and became an absolute powerhouse for the brand, thanks to the commercial colourways and attractive advertising campaigns. The name 'Albatross' was chosen to reflect the parallels between the shoe and the bird's ability to seamlessly glide on air.
The cloud-like cushioning is given by the Air Cushion technology in the midsole, offering the ultimate in comfort. The upper is fabricated from a comfortable combination of nylon and pigskin suede. Designed with the M-symbol on the side made from leather for effective branding.
The Albatross is undeniably one of the brand's oldest and most recognisable shoes. Thanks to the bold colours used as well as the brilliant reputation, the silhouette gained fame for being so comfortable over the years.
Where to buy:
The best places to buy Karhu Albatross are as follows:
Conclusion
In a nutshell, Karhu trainers run slightly small, so sizing up by half a size is the recommended path of purchase. An extremely reputable brand with performance at the cornerstone of every silhouette. You can be sure that buying into Karhu will give you a shoe with very high quality materials, bags of comfort and a premium aesthetic.
If you're looking to cop, we recommend heading to the two key UK stockists END or Footpatrol, where both of which stock almost all of the aforementioned styles.
Frequently Asked Questions
Do Karhu shoes run big or small?
Karhu shoes tend to run a little smaller. Therefore, it is recommended to size up by half a size when purchasing this particular brand.
How do Karhu Aria 95's fit?
Karhu Aria 95's fit on the smaller size. Therefore, it is recommended to size up by half a size when purchasing this particular silhouette.
Yes, Karhu is a very reputable brand that offers high-quality running shoes that are designed with performance at the forefront. Although, potentially a lesser-known brand in countries such as the UK, they have proved time and time again that they are a renowned company that provides great running shoes that are perfect for serious athletes.
No, the general consensus is that Karhu trainers run slightly smaller than usual. Therefore, sizing up by half is recommended. They do not come up small.
Are Karhu shoes good for running?
Yes, Karhu shoes are excellent for running. With heave Research & Development initiatives having been established. Karhu has various technologies that make their silhouettes ideal for running. They are designed for high performance. They offer athletes with a very comfortable, custom-fit trainer that makes them great particularly for running sports.
Karhu is a Finnish word that means "bear".