As one of the most popular sneaker manufacturers in both lifestyle shoes and in sport, Nike tends to lead innovation in most avenues it enters. In recent years Air Max has entered the golfing world and is shaking up what is expected from a traditional gold shoe. In this article we look at what are the best air max golf shoes and whether you should go Air Max over some of the more traditional silhouettes.
What Makes A Great Golf Shoe?
A pair of quality golf shoes are only as good as the quality of materials used in producing them and the level of comfort they provide. While superior comfort is an essential feature, it takes much more than a great fit to make a great golf shoe. There are generally two kinds of golf shoes; spiked and spikeless golf shoes.
Spiked golf shoes have plastic or metal spikes in the soles, making it easy to walk and play on wet or muddied surfaces. They also offer a sturdy grip for golfers who need to keep their lower body movement in check. Spikeless shoes are usually flat-soled with rubber studs for perfect traction on hard surfaces and have good grip from the traction elements on the outsole..
Other critical factors are the weight of the shoes. Shoes should be lightweight and easy to walk in so your feet don't ache while you're playing golf. Most golf shoes are made of leather as it provides an extra layer of weather protection and keeps your feet dry when playing in wet conditions.
In addition to waterproofing, you should also consider your playing style and swing. Generally, each golfer has their preference but what makes a great golf shoe is its adaptability to different playing conditions while ensuring golfer comfort.
The History of Nike and Golf
Nike ventured into the golf industry back in 1986 when it released its first golfing shoes. The shoes struggled in the market despite the company's endorsement deals with pro golfers like Curtis Strange. Still, Nike forged on, hoping to make its mark in the exclusive sports industry.
Nike managed to cause a golfing stir in 1996, signing newly turned pro golfer Tiger Woods to a $40 million contract. Many couldn't see why a company struggling to sell golfing shoes with no golfing equipment gave an unknown golfer such a deal. The deal not only bothered Nike faithful but investors as well. Nike Golf was established two years after Woods' signing, specialising in the production of golf clubs, balls and, eventually, square drivers.
The Tour Accuracy TW golf ball was good for business and helped consolidate the Tiger Woods signing as a good one. Nike retired its golf unit in 2016, choosing to focus on shoes, accessories and apparel – a move that capitalises on its status as the world's biggest apparel company.
The Top Nike Air Max golf shoes on the market
The Air Max is undoubtedly Nike's most famous shoe line, and the company has released some of these classic designs, so golfers don't miss out on iconic footwear. Since their release, certain Air Max golf editions have dominated the market, including the Air Max 270, Air Max 90, Air Max 1 and Air Max 97, which we shall review below.
Air Max 270 G
The Air Max 270 made its debut in February 2018 and became an instant hit on the streets. The shoe's commercial success and comfortability ratings made Nike consider bringing it to the golf course, and we're thankful they did.
The Air Max 270 G has a visible cushioning unit and a breathable upper mesh, just like its more casual sibling. However, Nike has added a leather layer to ensure your feet stay dry while hitting those holes. The shoe is spikeless but features an integrated traction sole that handles rotational movements confidently.
Pros
The shoes are waterproof
They fit snugly and are super comfortable
Ideal for playing on dry surfaces and summer conditions
You can wear it casually outdoors
Uses Modern technology, through the largest air unit on a golf shoe to date.
Cons
The traction is less effective in poor weather.
Wear and tear could make your shoes lose their grip
Where to Buy?
Nike: Shop Here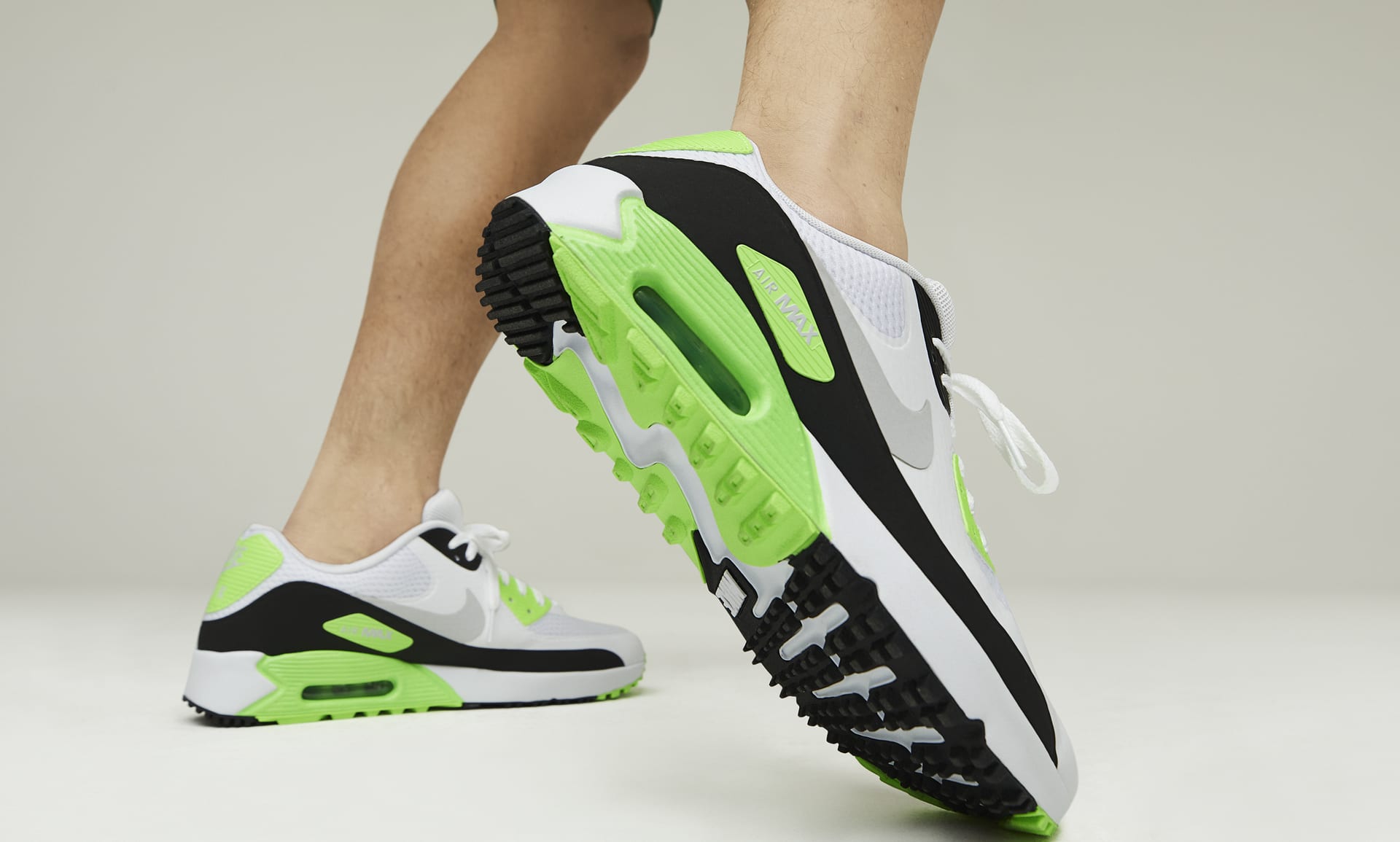 Air Max 90 G
If you're a sneakerhead, seeing the classic Air Max 90 on this list shouldn't surprise you. Notable for its visible air unit and comfort, the Air Max 90 silhouette is one of the most popular sneakers of all time. Though it was initially designed for running, they now feature prominently on the golf course. The Air Max 90 G looks and feels like the regular Air Max 90 but carries increased sole traction to give this spikeless golf shoes superb adaptability to different surfaces.
Pros
It's the Air Max 90! The shoes feel as good as they look, securing your comfort every step of the way
They are adaptable to both wet and dry playing surfaces
Waterproof protection
Combine comfortability with style
Cons
The shoes are spikeless, which means they may not perform well on muddy surfaces.
Where to Buy?
Nike: Shop Here
Air Max 1 G
No classic sneakers conversation is complete without mention of the Air Max 1. The shoe debuted Nike's visible air technology and carries massive credibility in the sneaker world. Now, Nike has modified the soles with golf lovers in mind. The classic Air Max 1 re-debuts as a spikeless golf shoe with every bit of the cushioning Air Maxes are known for.
Pros
Adaptable to different playing terrains
The durable foam midsole makes walking and swinging holes a breeze in the park
Stylish and comfortable
Sturdy and water-resistant.
Cons
Difficult to source, less releases than other silhouettes
Where to Buy?
Air Max 97 G
The Air Max 97 G is arguably one of the most comfortable shoes on the market. Thanks to an iconic air unit that runs the entire length of the shoes, these kicks keep your feet homely on and off the golf course. They're inspired by the original 97s, retaining the spikeless integrated traction across the Air Max golf series.
Pros
Super comfy and durable
Stylish and fashionable
You can wear it on and off the course
Cons
The shoes aren't waterproof
The soles are a bit high, upping your swinging efforts
You can't wear them in winter or on wet surfaces
Premium Price
Where to Buy?
Nike: Shop Here
The Top Three Nike Golf Shoes (Non Air-Max)
While the Air Max golf series has been a commercial success, the most loved Nike golf shoes on the market are the Air Zoom Infinity Tour, Roshe G Tour, and the Nike React Vapor 2. These shoes are worn by top golfers and make frequent appearances at PGA tours and other major tournaments.
Air Zoom Infinity Tour
The Air Zoom Infinity Tour gets its popularity from two sources. One is Brooks Koepka (who has one of the fastest swings on tour), while the second is its non-removable spikes. As mentioned earlier, golf shoes are either spikeless or spiked shoes.
While the Air Zoom Infinity tour is definitely a spiked golf shoe, it differs from a classic style golf shoe that has removable spikes. The Air Zoom Infinity is a custom design for Brooks Koepka, bridging the gap between running shoe and casual golf shoes.
Pros
The shoes are lightweight and easy to move around in
The spikes give incredible traction on the golf course
They are made from breathable, waterproof material
The frontend of the shoe is roomy and ideal for wide feet
Cons
The spikes are non-removable
Where to Buy?
Nike: Shop Here
Roshe G Tour
Launched in 2012, the Roshe is one of Nike's most successful sneaker designs. The shoes are famous for being lightweight and comfortable – two qualities that bring them into the conversation for the best walking shoes.
The Roshe G Tour comes in two variants; spiked and spikeless. Both variants are waterproof and retain the high comfort and breathability seen in the original Roshe. It also has a soft heel balancing technology that keeps your feet stable but comfortable mid golf swing.
Pros
Lightweight and comfortable
It comes in both spiked and spikeless versions
Waterproof and fashionable
Affordable prices
Cons
The traction wears out over time
Where to Buy?
Nike: Shop Here
Nike React Vapor 2
You can tell a great pair of golf shoes if a golfing legend like Rory McIlroy wears them. The shoes have an upper leather mesh that's complemented by the plush responsiveness of the Nike React Technology. The React Vapor 2 combines seven cleats with the famous integrated traction system to create a hybrid outsole that maintains your stance while hitting the balls.
Pros
The hybrid outsole brings good grip and stability
The React Vapor 2 is waterproof
Adaptable to varying weather conditions
The React technology ensures your feet stay plush and comfortable even while walking
Cons
The upper leather is synthetic and not as breathable as other golf shoes on the market
Where to Buy?
Nike: Shop Here
Final Thoughts
What Is The Best Pair Of Nike Golf Shoes?
For us, the Nike Air Zoom Victory Tour is the best pair of tadeonal Nike golf shoes. Nike has managed to combine the best features of a golf shoe. from its seven cleat outsole to the integrated traction and welcoming feel of the foam midsole, it's a no brainer Rory Mcllory sometimes spots them.
However, if going for an Air Max silhouette we'd play this by preference and budget. If we had to pick, personally we'd go to the classic Air Max 1 G or Air Max 90 G due to comfort and style preferences.
Frequently Asked Questions
What golf shoe does Phil Mickelson wear?
Phil Mickelson wears custom G/Fore Gallivanter golf shoes. The 2021 PGA tour champion is signed to G Fore, rocking several Gallivanter editions over the years. The shoes are made from premium leather, ensuring 100% moisture protection even in rainy weather. They also feature a triple threat sole and custom cleats.
What is the best golf shoe for comfort?
The Nike Air Max G tops our list as the best golf shoe for comfort. The shoe is light on the feet, has a bouncy air unit and is one of the comfiest trainers going.
Are air max golf shoes comfortable?
Yes, Air Max golf shoes are comfortable. While they feature incredible traction to help you maintain your balance while playing, Air Max shoes have a foamy midsole and air unit that provide lightweight cushioning for increased comfort.
What is the most comfortable golf shoe 2022?
The most comfortable shoe of 2021 is either the Air Max 90 G or the Roshe G Tour depending if you like the Air Max Air Unit or sway toward a traditional Nike shoe. The Roshe G Tour draws inspiration from the street famous and comfy Roshe originals and have done a great job of replicating the feelings on the golf course.
What are the most comfortable golf shoes for walking?
The Nike Roshe G Tour is one of the most comfortable golf shoes for walking. The shoe ranks up there alongside the Puma Ignite NXT and the Ecco BIOM H4 golf shoes, thanks to their breathability and responsive foot support.
Are Air Max 90s Golf Shoes comfortable?
Yes, the Air Max 90s Golf shoes are super comfy and ideal for playing golf. Thanks to its windowed air unit and foamy midsole, the Air Max 90s tick every box regarding comfort.
Yes, you can. Thanks to a golf focused 2021, Air Maxes are now some of the most comfortable shoes to golf in. What's more? You can choose from the Air Max 270, Air Max 1, 90 and 97 editions to match your playing style and comfort.
Are Nike Air Zoom Victory golf shoes waterproof?
Yes, the Nike Air Zoom Victory golf shoes are great at keeping your feet dry, thanks to a premium leather coating and a waterproof upper.
Are Nike Vapor Pro golf shoes waterproof?
Like most golf shoes, the Nike Vapor Pro is fitted with an upper leather mesh which makes it waterproof.
Are Nike Durasport 4 golf shoes waterproof?
Yes, Nike Durasport 4 are water-resistant. The upper part of the shoes is lined with synthetic leather that ensures your feet stay safe from moisture. The Nike Durasport 4 golf shoes also feature detachable spikes that make them sturdy even on wet grass.
Are Nike Vapor Pro golf shoes waterproof?
Like most golf shoes, the Nike Vapor Pro is fitted with an upper leather mesh which makes it waterproof.
What golf shoe does Tiger Woods wear?
Tiger Woods wears a limited edition Nike Air Zoom TW Victory golf shoe. The TW are Woods' initials and made with input from the golfer himself. The water-resistant shoes are fitted with a comfortable Air Zoom unit and detachable spikes, allowing you to pack power with each swing.