Most sneakerheads have heard of Nike Air Max Day. But if you haven't don't worry yourself because the annual celebration of everything Air Max is just around the corner. After reading this you'll be fully equipped to make the most of it! In this article, we'll take a look at what Nike Air Max Day is all about, and what you can expect from the March 26th 2022.
Nike Air Max Day is celebrated on March 26th each year to commemorate the launch of the iconic Air Max technology. Nike Air Max needs little introduction and it's normal to find shoe lovers checking out the line up to see what the year's celebration will bring. As always Nike Air Max Day 2022 is slated to bring lots of mouth-watering new releases, but nobody can be sure what will arrive until release day.
A Short History Of Air Max
Originally designed by Frank Rudy and Tinker Hatfield in 1987 as runners, Nike Air Max models feature that unmistakable air cushioning system everyone knows and loves. Offering soft balance and insane comfort in equal measure. Whether you're a fan of Nike VaporMax or the Air Max 90, you can't deny the super soft ride those air-cushioned soles give you.
That's not to mention the timeless visual appeal. Starting out in 2014, Nike began the annual celebration of the Nike Air Max story, a story of barrier breaking and culture shifting design. From the 80's to the 90's and even now thirty-five years later, Air Max has consistently featured in the top tier of sneakers.
Nike Air Max tech first came about in a bid to elevate the Nike brand, and out-do its competitors in the foot treatment game. As much as the original Nike Air drop was pretty successful, other brands had similar tech and users couldn't really tell the difference. After thinking long and hard, Nike decided to show the world how its air cushioning system worked. They allowed us to look inside Nike Air Max shoes. Now you could see, as well as feel the 'air tech', and the hype was born!
Thirty-five years later, Air Max tech is still hugely relevant and now features in other Nike models such as the 95 and a heap of Jordan releases. There's definitely a lot to celebrate in this tale. Not to mention that certain Air Max models regularly increase in price due to scarcity, such as coveted Off-White collaborations, or re-works of older models. So keep your eyes out at this time of year. Coming off the back of a pandemic year it's hard to know what to expect from Air Max Day 2022, but we've put together some info to help you prepare for the annual sneaker event.
Nike Air Max Day: Some Highlights From the Past
Air Max 90 "Bacon"
In recent year's Air Max Day featured the full launch of the Air Max 2090, whilst in 2020 the Air Max 90 "Bacon" was announced and then unfortunately delayed. The "Bacon" did finally drop again on Air Max Day 2021 and received a huge reception. 2021 also introduced another new silhouette with the Nike Air Max Pre-Day hitting shelves for the first time. Nike has made a tradition of offering deals on streetwear and a bunch of sneakers, we'll take a look into some of the past Air Max Day deals. Hopefully this will give you an idea of what you might be in for.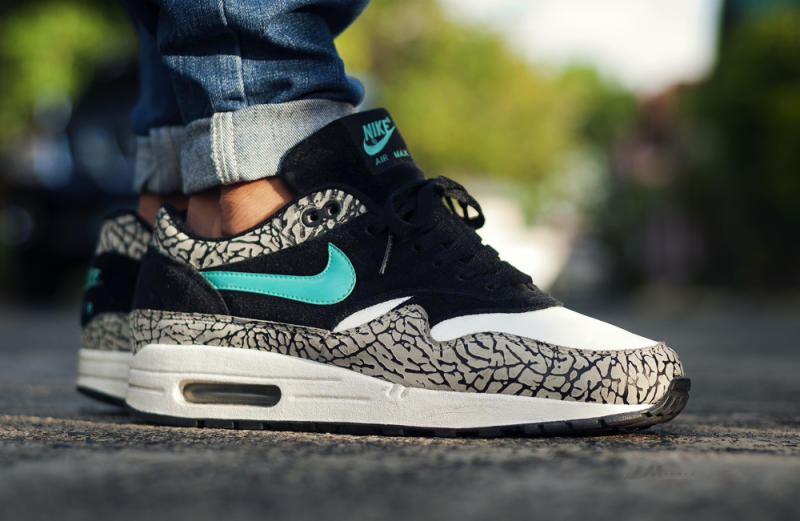 Air Max 1 "Atmos Elephant"
The Vote Back: In 2016, Nike offered fans a chance to vote for their favourite Air Max model. Swoosh fans voted in droves for their most beloved model, with the most popular returned to the roster. This gave Nike devotees a chance to have a say in a soon to be released model! The winner was a bonafide classic, the Air Max 1 "Atmos Elephant"!
RevolutionAIRS
2016's vote gave Nike fans the chance to have an input, but there was an even bigger surprise in 2017. Nike selected 12 creators and named them "RevolutionAIRS", these lucky souls all helped to design a new pair of Air Max! The shoes were then put through a voting process on the Nike website so everyone else could have a say, with the eventual winner being the iconic Sean Wotherspoon Air Max 97/1.
VaporMax
2017 saw the release of the super popular Nike VaporMax. These kicks featured an out-there design and their visual impact made waves reminiscent of the original Nike Shox release, not to mention it was a huge upgrade for Air Max Tech. This pair is stylish and unique and whatever colour scheme you choose, you can't really go wrong with them.
Nike Air Max 2090
Air Max Day 2020 came with a little uncertainty; supply chains were hit hard by the covid-19 pandemic and we weren't sure whether it would go ahead. As we all know shoe releases became a comfort and something to look forward to in those tough times. Designed to commemorate the anniversary of the Air Max 90, and taking some design queues from its older brother, Nike launched the Air Max 2090 alongside a special documentary. (Check it out below). It documents the ancestry of the Air Max 2090 all the way back to it's inspiration, the Nike Air Max 90. Other small but welcome additions included an Instagram filter for Air Max lovers and Nike also dropped a TikTok challenge for fans.
Nike Adapt Auto Max
As far as the Air Max family goes, Nike regularly manages to include a new feature or design that redefines the brand. The Adapt Auto Max combines style and soft cushioning, throwing in a curve ball with digital technology taking front and centre. The shoe has a self-lacing feature which can be set to the wearer's preference. Theres a tighter lacing option for activities such as running, and a slightly looser fit for casual wearing. Don't forget, you can switch between modes via voice command, your shoe connects to Siri or your Apple Watch. Think of it as a smart shoe.
What To Expect in 2022 – The Year of the Nike Air Max 1
Nike loves to drop surprises and this usually coincides with some mouth-watering offerings. One thing is certain, the shoe giant loves entertainment. Nike has ensured a culture of user-centric releases on Air Max Days. No matter your taste, artistic or musical leanings, you can always bank on Nike to keep you covered. Now you know about the amazing offers from previous years, let's dive into what Nike's lined up for 2022. We're calling this the year of the AM1 and you'll soon see why.
Nike Air Max 1 Blue Print
The Air Max 1 "Blueprint": This Nike Air Max 1 is a blueprint-themed edition of the model, clearly a nod to the silhouette's global fanbase. They're built from mesh and leather, whilst the colourway drops in White, Dark Marina and Dutch Blue. Noticeably the grid-like pattern appears on the tongue tags alongside the mismatched Swooshes. Don't miss the globe graphics on the heels and insoles as well as laces that feature Air Max Day '3.26', the translucent outsole is ice cold.
Nike Air Max 1 "La Ville-Lumiere"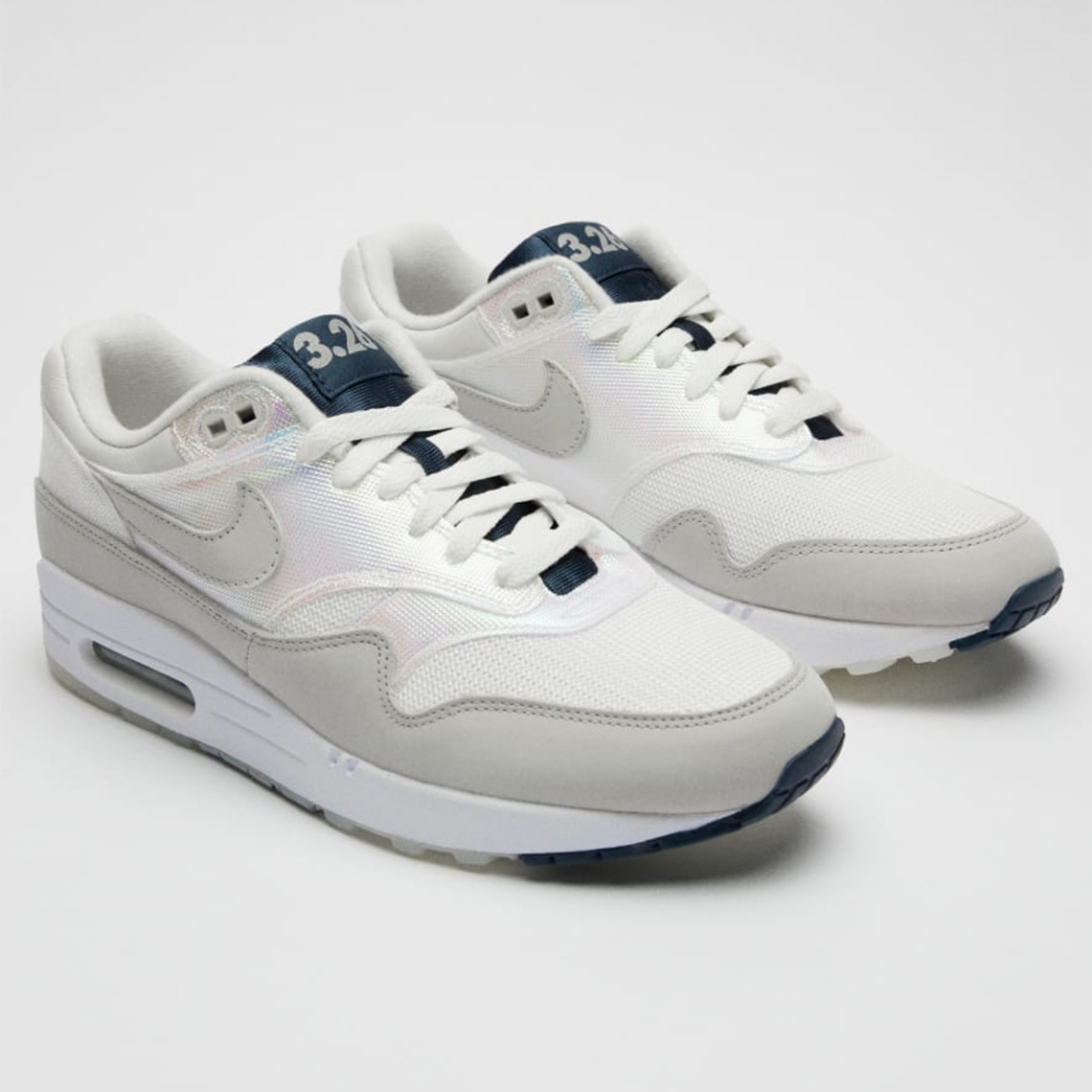 The second style that has obvious nods to Air Max Day, again check out the '3.26' branding on the tongue tag and throughout the shoe box. The shoe has been dubbed the "La Ville Lumière", inspired by Paris which is known to many as the "City of Light". The city's Central Pompidou building served as direct inspiration for the Air Max 1's exposed Air-Sole unit in the midsole.
Air Max 1 "Wabi Sabi"
There's plenty going on here! Wabi-Sabi is a Japanese concept that references the appreciation of imperfections, which led to an array of blueprint-like details throughout the shoe. Colour wise, earthy tones dominate.
Brown hues split the suede mudguards, whilst olive covers the heel overlays and Swooshes, a darker yellow dons the lower neck and a pale beige sits across the overlays. The stitching is exposed to outline almost every panel of the base layer as well as alongside the forefoot Swooshes, giving this crep a deconstructed look.
You'll notice "XXXV" is embroidered into the lateral heel as a reminder of the silhouettes 35th anniversary. The traditional Air Max branding is forfeited for a Nike smiley face, and a super cool feature sees the wearer able to personalize the tongues with various patches that come as part of the package. They're finished with crack-like patterns on the midsoles which are fashioned in creamy tones.
Nike Air Max 1 Crepe "Hemp"
As you now well know, the Nike Air Max 1 celebrates its 35th anniversary in 2022. It makes plenty of sense that Nike would bring back one of their very best AM1 releases. Not many sneakers incorporate Burlap material, a feature which made this release extra special when they first dropped.
Rumour has it, this classic colourway may be dropping in March 2022! We definitely can't wait to see it return. Beautiful smooth tan suede wraps around the mudguard, this really brings the "Hemp" theme to the fore. Providing finishing touches, an eye-catching pop of colour is added with the Swoosh finished in "Mint Green". Whilst the off-white crepe sole brings everything together.
Final Thoughts
March 26th is a day many sneakerheads look forward to and rightly so. Though several models have come and gone, Nike Air Max technology remains one of the staples of the sneaker industry. This year, we can't wait to see what surprises Nike has to offer. We're anticipating surprise releases of new sneakers and also retro Air Max models. Stayed tuned for more updates and make sure to Subscribe for New Release and Sale Updates direct to your inbox!