From the birth of Nike's Max Air, to the rise of Adidas' Boost cushioning technology, even Asics' Gel Technology and New Balance's Fresh Foam, this article looks at the most innovative and most daring cushioning technologies to have graced the sneaker world and answers the question, what is the best shoe cushioning technology of all time?
So you're looking to find to buy a new pair of comfortable sneakers but have no idea which shoe can minimize stress on your joints when you play sports? Or maybe you're looking for a comfortable shoe that can keep your feet adequately cushioned when you walk or stand for hours. Worry no more, we got you covered.
This article looks at the whole sneaker market to asses the technology behind all of the biggest brands shoes and ultimately helps you find the most comfortable pairs available.
A sneaker's cushioning is one of the most important aspects people look for before making a purchase, well-known athletes specifically get custom orthopaedic insoles to prevent injuries or maximize cushioning in their sneakers. But not everyone can spend more on insoles that's why we're here to bring you the best cushioning that will give you your money's worth.
Nike Air and Nike Air Max cushioning technology
The Nike Air cushioning technology is made with a flexible transparent bag containing pressurized air and placed in the soles of the shoes to provide cushioning. The brainchild of this technology was Former NASA aerospace engineer Marion Franklin Rudy who introduced his invention to Nike's co-founder Phil Knight in 1977. Nike then incorporated the Air cushioning to the Nike Air Tailwind that debuted in 1978 and a wider release the following year.
The technology is now over 40 years old and has been used countless times since the debut of the Nike Air Max sneaker series, which made the Air cushion visible. To this day, Air Max is Nike's most popular product range, so loved in the sneaker scene, they've even got a dedicated Air Max Day to celebrate it! Read more about What to expect on Air Max Day here.
Air Max rebirth: The Rise of the Nike Air Vapormax
In 2016, the Air Max cushioning is once again introduced with the Nike Air Vapormax. A new rendition of the the cushioning technology where it runs from heel to toe, covering the entire midsole with a contoured outsole made entirely of Air for maximum cushioning..
Since then, the Air Vapormax had an annual release with certain improvements every year.
Performance-wise, Air cushion is still being used especially in basketball signature sneakers namely: The Lebron 17 and 18 which combines Nike Air Max and Zoom Air technology which we'll talk about in further on.
The PG 4 and 5, NBA star Paul George's signature sneaker, incorporates a full length Air unit that sits underneath your foot for a super comfortable ride.
Nike's revolutionary Air cushioning is one of the most versatile shoe midsole technologies of all, providing maximum comfort and cushioning for different lifestyles whether you're an athlete or not, it truly is a ground-breaking cushioned shoe that will continue being developed in the years to come.
If you're interested in all things Air Max, you can browse the latest releases on our dedicate page here, or alternatively if you're looking to shop a pair, we recommend heading over to Nike direct.
Nike Zoom Cushioning Technology
After the successful run of the Nike Air Max technology, Nike wanted to create a more responsive cushioning technology to for the perfect pair of running shoe that could bring out the best performance of athletes. Enter the Zoom Air technology.
According to Nike, Zoom Air is made with "Tightly stretched tensile fibers knitted inside a pressurized Nike air bag, giving its cushioning a snappy responsiveness."
First called "Tensile Air" during its debut in 1995 with the Air Zoom LWP (Lightweight Performance), Zoom Air took the cushioning game to a whole new level with its evolving variations, similar to how Air Max was utilized specifically for performance or lifestyle, this become the go to for experienced runners
Zoom Air bags come in different shapes and sizes, some Zoom bags run full length from heel to toe offering smooth and responsive transitions. It has been continuously modified since then and is still surprising athletes with the consistent innovations today.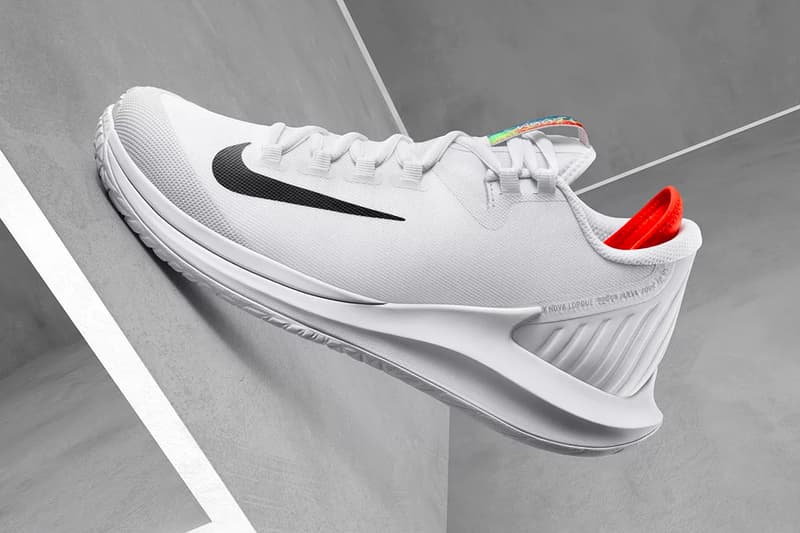 Performance-wise, Nike Zoom Air is the perfect choice of athletic footwear for anyone taking sport seriously or on their feet all day. The technology brings a stable ride all day that maximises comfort, especially for the knees. whether you're an average runnner, playing on the court or on the field or just using these a a casual shoe. the tensile fibres stretch as you step on the ground and returns to its form when your foot leaves the ground. Giving you maximum lift underfoot, due to the full-length Zoom Air bags.
The first Air Jordan sneaker to feature Zoom Air is the Air Jordan 12, where it runs full length.
There's a downside for exposed Zoom bags though, once the fibres collapse and the bag pops, it loses its cushioning capability and gives you a slightly unbalanced feeling when walking or running. It was an issue for the Air Jordan 28 that had an open midsole slot for the Zoom bags to be felt directly underfoot for an ultra-responsive ride, but overall those cases are in the minority.
If you're not sure what to do if you're Air Max Bubble pops, we have a helpful article that answers that exact question. Read more here.
Just like the Nike Air, the Zoom Air took forms that can further maximize performance. With the NikeCourt Air Zoom Zero sneaker, we see the first curved Zoom unit intended for tennis movements.
We can also see the full-length Nike Zoom Air strobel sitting atop the heel in the KD 12 and the forefoot for the 13 allowing for that excessive shoe cushioning just where it's needed.
Another advantage for Zoom Air bags is that it can be inserted in sneakers foam midsoles like the Lebron 11 and Zoom Kobe 11.
With the Lebron 11, A full-length Zoom Air bag is placed inside the hallowed-out part of the Lunarlon Midsole. This results in a spring-like softness with superior impact protection that you just wont find on conventional shoes.
We can also see the same in the Kobe 11 except the Zoom Air bag is placed in the heel.
For runners, the Nike Zoom Pegasus series is one of the most reliable running shoes that's been releasing since 1983. It has 37 versions already and the 38th edition is expected this year.
If you're Interested in buying Zoom Air, We recommend shopping at Nike Direct
The Adidas Boost Cushioning Revolution
If there is one foam cushioning that took all-day comfort to a whole new level, it would be the Adidas Boost cushioning technology. Boost has been considered to be an icon of energy return.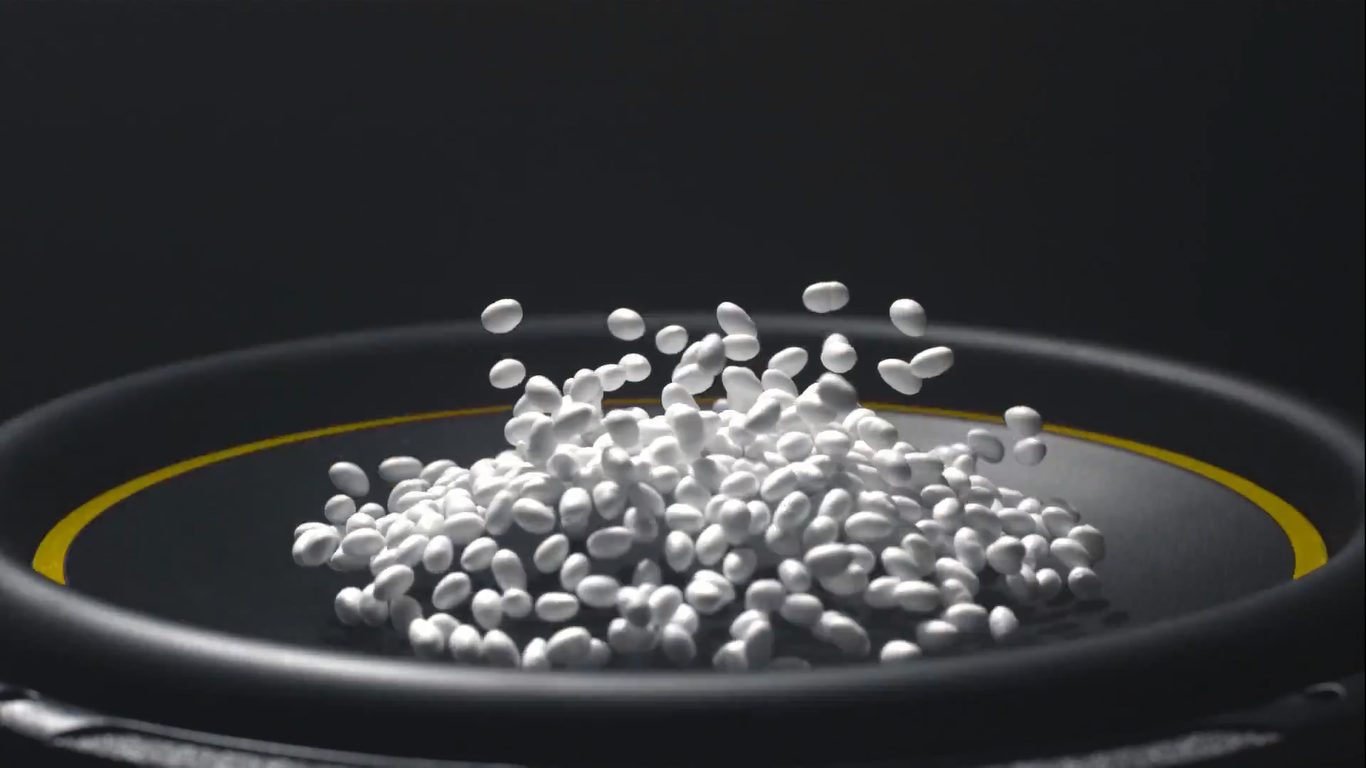 According to Adidas, Boost is created by expanding thermoplastic polyurethane (TPU) particles to form cells that are surrounded with tiny pockets of air. The product then turns into a new expanded thermorplastic polyurethane (eTPU) resulting in Boost technology has been made possible by the Adidas Innovation Team and German chemists BASF (Badische Anilin und Soda Fabrik).
The development started in 2007.Debuting in 2013 with the Energy Boost running shoe, the Boost technology was a smash hit. People were surprised and satisfied with the comfort and springy feeling that the cushion provides.
Receiving a huge amount of positive feedback with their Boost-cushioned running shoes, Adidas wanted to take the world by storm as they launched the Ultraboost in 2015. They sought out to create a minimalist shoe that combined Boost technology with a stylish mesh upper to maximise comfort and deliver a top tier aesthetic – And they did exactly that.
Using a thick full-length Boost, the Adidas Ultraboost changed the course of adidas' success in the following years. Finally having a cushioning technology that rivalled all of the most comfortable shoes currently on the market.
The Ultraboost quickly became a legend in the adidas Hall of Fame. Becoming known as one of the go to comfort shoe brands, delivering on of the best cushioned running shoes and whist also delivering that breathable mesh upper that ensure yo keep your feet cool and secure, with that sock like fit.
Ever since then, Ultraboost had an annual release, having different upper materials to increase comfort and avoid restricting the foot or the ankles for a completely pillow-like softness.
Boost wasn't only limited to their running sneakers. In 2014, it entered the basketball world with the Adidas Crazylight Boost, only featuring a heel Boost cushioning with EVA (Ethylene-Vinyl Acetate), that left basketball enthusiasts disappointed with its lacking cushion on the forefoot.
Adidas only kept improving from then, finally featuring a full-length Boost cushion with the D Rose 7 and Crazylight Boost 2016.
During these years, Boost had really driven the boost technology to the centre of it's release calendars. Bringing Boost forward as the key cushioning technology with every shoe release. Whether this be for neutral runners or simply innovating the lifestyle market as a comfortable padded shoe for sneakerheads to appreciate.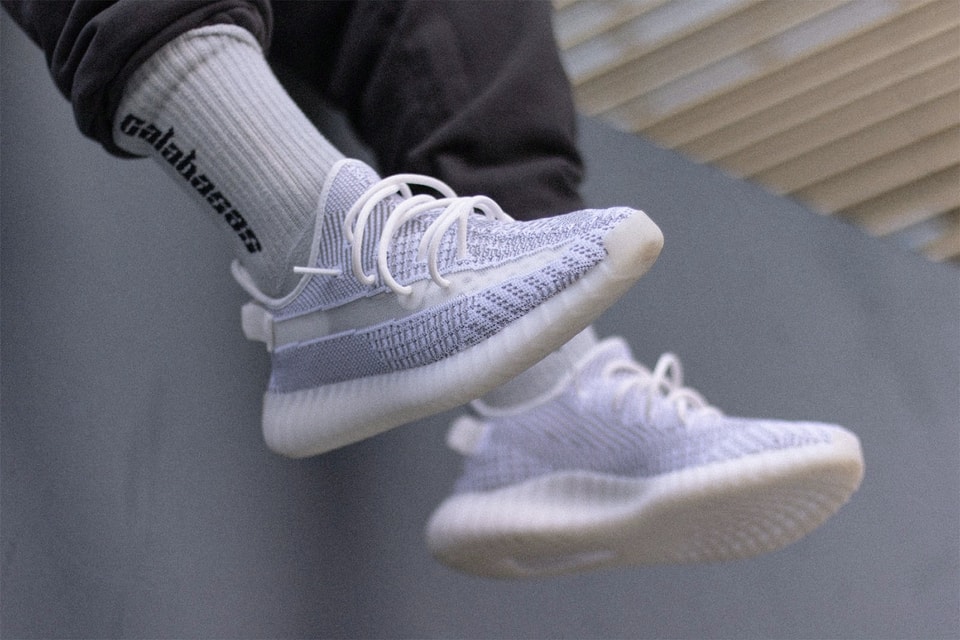 Boost has also been a staple of the Yeezy Line, Adidas' collaboration with Kanye West. The very first Adidas Yeezy 350 had Boost inside its sole.
Every story is true, Adidas Boost truly is one of the best cushioning technology in the past decade, the hype about it is real!
If you're looking to make a purchase of the adidas ultraboost. We recommend shopping at adidas direct.
Nike Shox: An Iconic cushioning technology
Let's have a blast from the past with this nostalgic, but also somewhat outdated cushioning technology from Nike. You just can't talk cushioning technology without discussing Nike Shox!
If there was one person that would make the word 'Shox' memorable, it would be none other than Half-man Half-amazing Vince Carter.
Vince Carter was wearing the Nike Shox BB4 when he famously dunked over a seven-footer in the 2000 Sydney Olympics.
The Shox idea was already being explored back in 1984 with Bruce Kilgore. But it took more than 15 years before the Shox hit the sneaker stores. The Shox technology is mainly a connection of two plates with foam columns in between that serves as the mechanical cushioning system.
Vince Carter dunking over Frederic Weis in the Olympics Image from: Nike News
The Shox was an intriguing concept, making fans wonder about the shoe's true cushioning capability and comfort level.
Performance-wise though, it leaves much to be desired, the foam columns in the heel look like they'd provide extra cushioning, but in reality they didn't really have the springy feeling that is expected of the shoe.
Despite being an iconic sneaker in the Nike back catalogue, in 2017, the Nike Shox ceased production. returning momentarily in 2018 with the Nike Shox Gravity.
Although a pair of shoes that are a real fan-favourite, with bags of nostalgia and wide appeal, we wouldn't advise this as a purchase if you're prioritising comfort over style as generally in the world of cushioning, the Nike Shox is renowned for being an uncomfortable shoe.
If you're a massive Nike Shox fan, you can still find loads of pairs on the resell market.
A brief look at the Adidas Springblade
Another adidas shoe in the lineup is one of the most ambitious cushioned outsole combinations we've ever seen in the history of sneakers.
Debuting in 2013, the Adidas Springblade running shoe has 16 rubber blades that offer "maximum energy return" that aims to give each step a bouncy feeling.
One of the most-unique looking outsoles in the history of outsoles, the Springblade didn't really live up to the attention it was getting as reviewers mentioned that it did provide a propelling feeling but its lack of stability on the forefoot may cause ankle injuries especially for runners who seek to run longer hours.
It's a real example of adidas's innovating, but unfortunately the technology seemed to be discontinued as Adidas has removed almost all of its content from their website.
Curious about this sneaker? Check them out on eBay:
New Balance Fresh Foam
On a cushioning technology competition on what seemed like a head-to-head matchup between Nike and Adidas, we'll also give the spotlight on other sneaker brands that has great cushioning technologies as well. Enter the New Balance Fresh Foam Cushioning.
Unveiled in 2013 and debuting in stores the following year, the Fresh Foam is actually just an EVA foam that went through a heating process updated with various compounds and formed with a 3-D printing machine to give the midsole its geometrical shapes that provides more stability with enough cushion to make your feet endure less wear and tear.
The Fresh Foam sneakers are one of the performance-specific sneakers that decently does it job, not as hyped as other foam-based cushions but it's definitely one to look out for especially for people looking for a comfortable pair of sneakers on a budget.
It's one of the most consistent comfortable running shoes wherein you won't really run into much durability issues compared to other foam-based cushions.
New Balance upped their cushion game by introducing the Fresh Foam X, a softer, lighter, and more flexible than its predecessor. Making their reliable cushion even more reliable for running, or just simply walking for hours.
One of the highly anticipated Fresh Foam X sneakers in the past years was the New Balance Trail Hierro V5 which also featured a Vibram outsole to reinforcement a comfortable yet sturdy shoe.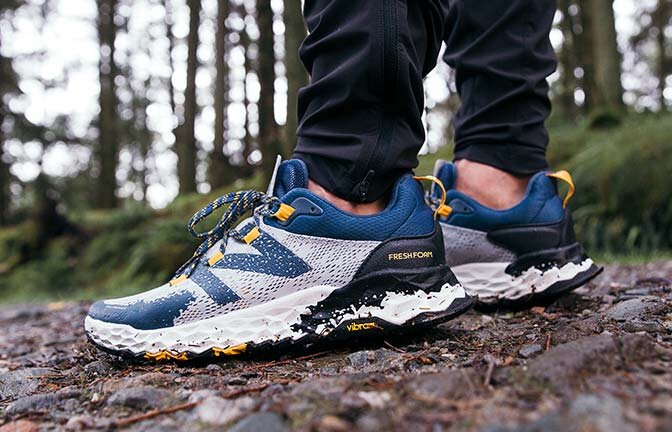 Interested with New Balance's Fresh Foam sneakers? Check out the latest drops at New Balance Direct
Asics Gel Cushioning Technology
Here's another sneaker brand that delivers great performance shoes and consistently improves their products as the time goes by. Meet Asics, it's actually the performance division of Onitsuka Tiger. If you have read Phil Knight's Shoe Dog memoir, Onitsuka Tiger is one of the pioneers in the sneaker industry.
You would notice that Asics Gel cushion is placed on most of Asics' sneakers, so let's discuss, what actually is Asics Gel?
According to Asics' website, Gel technology is created from inert polymers that forms silicone, its properties are then enhanced in laboratories to create a substance that mitigates the demands on the human body while playing sports.
Some of its benefits are:
Increased Comfort over longer distances.
Better Stability from strategic placement.
More Natural run style for optimum performance.
Gel technology also has its own purpose depending on its shoe placement, the heel Gel technology reduces impact on heel strikes and allows for a smoother transition while the forefoot Gel technology enhances shock reduction during forward movement.
Asics has been one of the main choices for runners and even volleyball players. Although it's also famous for their comfortable lifestyle sneaker range.
One of the well-known Asics lifestyle shoes is the Gel-Lyte series. Having collaborations with many designers and clothing brands like Sean Wotherspoon and atmos over the years.
If you're in the market for a fresh pair of ASICS, we recommend heading over to END as a great stockist of all things ASICS.
The Newcomer – Under Armour HOVR Cushioning technology
Focusing on performance, Under Armour HOVR cushioning technology is one of the new foam-based cushioning system in the sneaker industry.
Debuting in 2018 with the HOVR Sonic and HOVR Phantom, two running sneakers, HOVR is a new kind of foam and wrapped in a compression mesh called Energy Web to return energy and push you back up.
The Under Armour HO
The HOVR cushion is caged within a denser foam for stability as an uncaged HOVR foam is too bouncy.
This HOVR foam is set to overlap the success brought by UA's older foams namely: Micro-G, and the Charged Cushioning. HOVR also attempts to compete against the latest cushioning systems of Nike's React, ZoomX, and Adidas' Lightstrike foam.
HOVR also made its way to basketball sneakers with the HOVR Havoc and their main basketball signature line with the Curry 6.
If you're interested in any Under Armour as a comfortable shoe, head to Footlocker to check their full Under Armor Footwear range
Adidas innovates again with Lightstrike
We're going back to Adidas to discuss their latest cushioning system, the Adidas Lightstrike.
Years after the reign of Boost in the sneaker world, people were looking for something new, something lighter and something that does not bottom out after a few years of wear and tear. This is where the Lightstrike comes in.
Introduced in 2018 with the Adidas N3XT L3V3L basketball shoe, Adidas said that "Lightstrike is a new super-light midsole that provides the perfect balance of lightweight cushioning and on-court responsiveness."
The new midsole was also exclusively created by Adidas Basketball, although Lightstrike was featured in some running shoes like the SL20.
Does this mean we're going to bid goodbye to Boost? Definitely not, with the likes of Nike releasing React and introducing their insanely limited ZoomX sneakers, Adidas wants to stay ahead of Nike in the foam-based cushioning systems.
Everyone's bodies aren't exactly the same and needs different specifications, that is why foam-based cushioning technologies must vary to cater for both flat feet, wide feet and narrow feet simultaneously Adidas also has a denser cushioning called Bounce that is comfortable underfoot no matter what you foot shape.
Adidas isn't looking to slow down anytime soon as they try to create a shoe that can beat the sub two-hour marathon wherein Nike's Eliud Kipchoge wore the Nike NEXT%. Although it wasn't counted as a world record yet, Adidas seeks to compete head-on against Nike's top-tier running shoes.
That's what even makes this cushioning technologies even more interesting.
Feeling the Lightstrike? Cop yours over at three stipes HQ:
Looking back at the Nike Lunarlon
Another one of Nike's outdated cushioning systems, that's currently been shadowed by Adidas Boost is the Nike Lunarlon.
Inspired by astronauts' weightless, soft and bouncy movements. Designers Kevin Hoffer and Eric Avar started searching for an ultra-lightweight foam that is as soft as a pillow yet bouncy.
Lunarlon is made by a fusion between a simple EVA and a Nitrile Rubber . Resulting into an extremely sticky foam.
Nike found a solution as they filled a firmer Phylon foam with Lunarlon.
Housed inside a firmer foam, Lunarlon then provides the bouncy feeling during fast-paced movements to provide a responsive and lightweight feeling.
Lunarlon had a successful run until Adidas started releasing Boost sneakers in 2013, people said that Boost had a bouncier feeling and lasts longer compared to Lunarlon.
One of Lunarlon's main issues is that it bottoms out quickly compared to other lightweight foams.
It may be outdated but it's one of the most nostalgic cushioning technologies especially performance-wise.
Nike React
This one will give you a surprising reaction (no pun intended).
Here's one of Nike's latest cushion offering that is widely available compared to their ZoomX.
In Nike's press release, React is "11% softer and offers 13% more energy return than our former softest and bounciest cushioning.
Released in 2018, Nike React seems to be the main replacement for their Lunarlon, and it's a great sign as React is really bouncy and soft.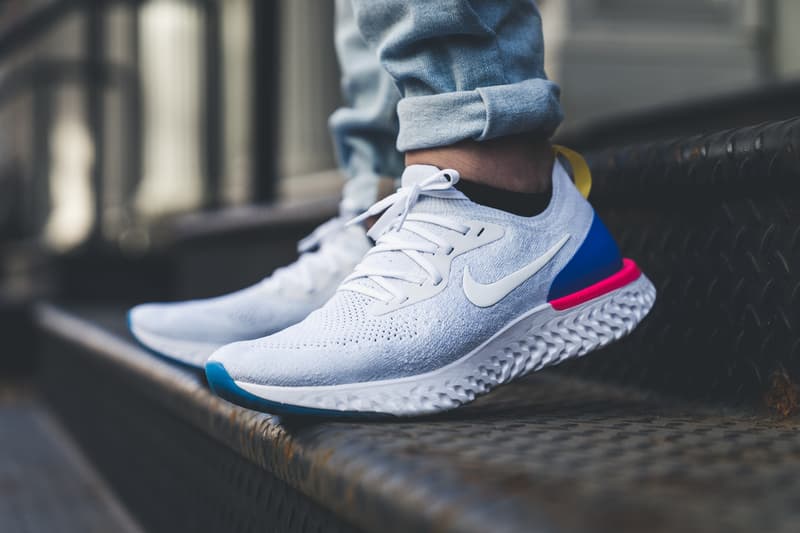 It's great as a lifestyle shoe as well, especially with the Element React 87 and React 55.
It works well without the need to be surrounded with a firmer foam because its core needs enough open space for it to show its true capability and for it to react (no pun intended again).
Being widely available almost anywhere, your feet will definitely thank you for this cushioning. The Nike Epic React is an excellent pair for anyone looking for plenty of cushioning but also serious about the aesthetic.
Interested with the Nike React sneakers? Check out this link below:
The Nike ZoomX cushioning design
Probably the most limited cushioning technologies as of late, welcome the ZoomX.
Completely different than Zoom Air, ZoomX is another foam-based cushioning by Nike and is claimed to be their softest and most responsive ever, it was designed to maximize speed by delivering greater energy return.
ZoomX is said to be derived from a foam commonly used in aerospace innovation.
Debuting in 2016 with the Zoom Vaporfly Elite wherein the runners Eliud Kipchoge, Zerseney Tadise, and Lelisa Desisa attempted to break the two-hour barrier in a marathon. They failed but they came closer than no one ever before.
That's what ignited Nike to keep designing the ZoomX in their marathon shoes, reports also said that runners finished faster when they wore ZoomX sneakers.
Exclusive to running shoes, there are hopes that ZoomX finally enters the basketball line and the casual sneaker market line so that ordinary people get to experience its true power.
Nike Zoom Vaporfly Elite.
The ZoomX sneakers aren't widely available yet and they cost a lot, but check these links out and try it:
Final Thoughts:
So there is is, we've covered almost everything you need to know about sneaker cushioning technologies to date. You have the Air Max and Zoom Air that maximizes impact protection while giving you more responsiveness as you move. Then you have the Nike React and Adidas Boost that provides soft and bouncy cushioning that reduces stress on your landing.
You can also have the Under Armour HOVR and New Balance Fresh Foam for performance-specific needs.
Overall we would probably side with the adidas Ultraboost as the best versatile cushioning technology available on the market, available here. But you may also want to consider Nike's React Range or if you're looking for a lifestyle shoe, you may want to go with trusty Air Max.
Whatever it is that you think will be most comfortable on your feet will depend on the environment you use them in and your foot shape. But we hoped this article helped you on your journey.
Recommended further reading:
Is the Adidas Ultraboost the most comfortable sneaker of all time?
What Are The Best Shoes For Standing On Concrete All Day
Frequently Asked Questions
Why are Adidas Ultraboost so comfortable?
Ultraboost are so comfortable because Adidas combined a comfortable knit upper material and a thick full-length boost midsole wearers a lightweight shoe with great impact protection. Some wearers who work in the retail department even claimed that the shoes can make them stand for hours without giving their legs too much stress.
Shoe cushioning is the capability of a sneaker to provide impact protection as the foot lands on the ground while walking, running, or doing sports. A shoe's cushioning relies on its foam midsole or insole, other brands create an air-filled bag or gel-filled bag that are inserted inside the soles to provide cushion.
Best place to buy Air Max?
The best place to buy Air Max is probably your local retailer as you get to try them on and get a feel for how they fit. However if you know your size and are happy buying online we recommend either Nike or Footlocker for a diverse choice of Air Max.